Minimalism in all areas of life has become increasingly popular over the last few years. Many of us try to declutter our lives, find a little bit of serenity and maybe just look to make things simpler. This has certainly been the case for me. In my golf game, this has actually almost always been true. Over the last decade, I would guess that 95% of my rounds, in competition and out, have been with fewer than 14 clubs, sometimes far fewer. With this experience, I have a few thoughts on just what the perfect minimalist golf club set for many of us might be.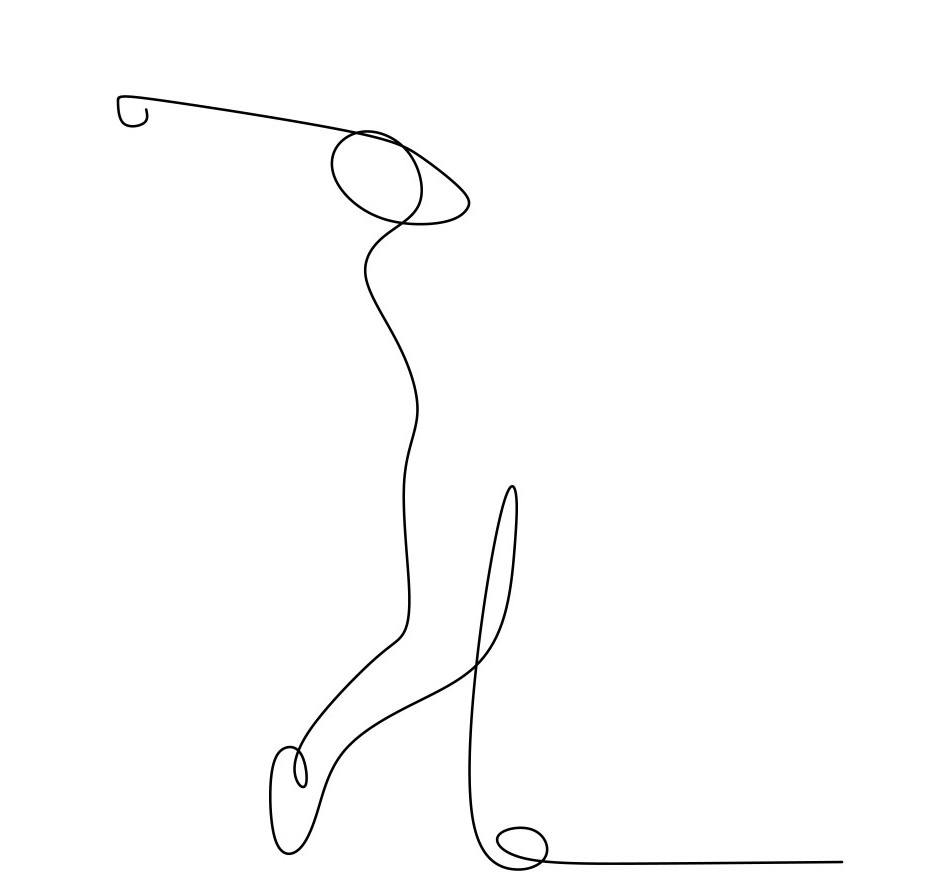 Minimalist=No Rules
First things first-I don't believe in "must" as far as minimalist golf goes. If you want to play 12 clubs instead of 14 and call yourself a minimalist on the course, that is absolutely fine. In fact, if you want to be a "maximalist" with 25 clubs in a giant electric trolley bag, that is great first. Whatever helps you enjoy the game. Obviously, in competition there are rules but outside of this and as long as you aren't cheating your playing partners, it is all good.
That being said, I tend to consider anything in double figures as a full set, possibly missing a club or two. For example, I quite often used an 11 club set up in competition. I didn't feel like I was forgoing clubs and it certainly wasn't a deliberate effort to reduce the number. I just put in the clubs I wanted/needed and it often came to about 10 or 11. Often, it went something like this:
3 wood
hybrid
5-pw
sandwedge
putter
This was particular to my game and my course, which is fairly short. I was also struggling with my driver so preferred a 3 wood. I also like (or liked at least) a half pitching wedge rather than hitting a gap wedge around 50 or 52 degrees.
If I were to do this again in competition, I might change the 3 wood for a driver and maybe add in a 52. But then again, who knows?
What is a Minimalist Golf Club Set?
So what do I consider to be a true minimalist golf club set? Generally for me, it would be 8 clubs or below. I have had quite a bit of success with between 6 and 8 clubs. Success in that I don't feel like it costs me any shots at all and in fact, surprisingly enough, I sometimes think it can actually improve y scores!
Before worrying about exactly which clubs to use, the smart way to look at things is by asking two questions:
Which clubs do you enjoy hitting?
Which distances/shots will you need to hit on the course?
The first one is far more important than you think. As an example, I used to enjoy hitting all sorts of shots with my pitching wedge. This is sort of ironic because I often favour a specialist 46 degree wedge nowadays rather than the set wedge. I actually prefer this for the same reasons though-it lets me hit different shots with one club. Recently, I have started hitting the odd shank or two with this wedge, so I am obviously not quite as certain about my current club choice!
Some people are like this with a hybrid for example. Mark Crossfield of YouTube fame was very vocal about his hybrid (23 degrees?) because it let him hit so many different shots and cover almost everything from his fairway woods all the way up to his mid irons. There is something extremely reassuring about pulling out one particular club and feeling confident that you can produce a few different shots with it.
The surprising thing is that a lot of golfers who have this sort of favourite club actually feel like they should have a traditional club set up as well. They might have 4 wedges but hit one for almost all the short game shots. Or they will prefer to hit a three quarters hybrid rather than the 4 or 5 iron taking up space in the bag.
This also means that when they do pull these virtually unused clubs out, the result tends to be less than convincing because they are thinking that they would rather have their "old trusty" in their hands.
You can probably see where I am going with this, but why not simply take these virtually useless clubs out of the bag? This is when a minimalist club set up can save shots. No hesitation, if it is a short game shot, it is your favourite wedge. Between 150 and 180? Hit that hybrid. Standing behind the ball with a lot of confidence in the club tends to lead to more successful shots.
Which Shots Do You Really Hit?
This is something that makes me smile. So many golfers will talk through their clubs and give situations where they will hit such-and-such a shot. And the chances of them ever actually doing o, or even needing to do so are as close to zero as makes no difference.
The classic example is the three wood. This is one of the hardest clubs in the bag to hit for all golfers, from beginner to pro. If you see a professional golfer absolutely stone-cold top it, I will bet pennies to pounds there is a three wood in their hand. And yet it is quite common to hear something along the lines of "I need my three wood for those long par fives" or "when I just need to hit the fairway." Really? If I really need to hit the fairway, I would rather have anything than a three wood in my hand!
I like long irons, so I would rather hit a four or even three iron, but if you prefer hybrids a 19 degree hybrid has a FAR greater shout of finishing on the short stuff. If you like fairway woods, a five wood or even a seven wood is going to be much easier to hit. You can see this by the number of seven woods currently sitting in bags on the PGA Tour. This was a club that was considered only good for women and absolute hackers a few years ago. Try telling that to Bubba Watson;)
The other thing to think about is the distances that you absolutely need to hit. If, for example, you have a par three of a certain distance, especially if there is a hazard to carry, you probably want a club that you can hit that distance without trying to pull off some sort of miracle shot.
Likewise, if you have a par four or five with a forced carry, you need to be able to make that carry.
That being said, here is what I like in a minimalist golf club set and a few explanations as to why I choose these clubs in particular, as well as some other options.
For me, I start off with these nine clubs and usually remove another 1-3, depending:
Driver
19 degree hybrid
6,7,8,9 irons.
46,56 degree wedges
putter.
Essentially, I work from the extremities of the bag inwards. What I mean is that I consider putter to be essential (unless you are playing in a three club tournament which is going to be a bit different.) I also consider that it is worth having the longest club you can consistently hit well. In the past, this has been a fairway wood for me. currently, I am back on speaking terms with my driver which means it is also a definite starter.
Plenty of minimalists will say only to play clubs that can be used for different shots, but as you can see from these tow choices, I don't think that is true until you are at say 5 clubs or fewer. I am a bad putter, but would rather have a proper putter in my hands on the green than try to blade a wedge or manipulate a hybrid. And I would rather have as much distance as possible off the tee on holes that call for it with driver rather than playing a difficult to hit three woods because I "might" use it again for a second shot into a par five as I explained previously. Of course, your choices might be a little different.
The Middle of the Bag
Most of my minimalism really happens as I get away from the ends of the bag. After the driver, I want to be able to do three different things:
hit a long par 3
Hit a fairway safely
hit a long second shot into a par 4/5
For me, the perfect club for this is my 19 degree hybrid. The one I currently have is a mizuno fli hi. It is easy to hit, I can get after it and get it a reasonable way down the fairway, it is easy to hit from difficult lies and I can even chip with it when I want to do a bump and run.
It is perhaps not the perfect club for these three shots although I can't think of a club I hit better for any of them. It is pretty damn close to ideal though and combines "very good" in all three categories. This adaptability also means that I hit it quite a bit every round. This lets me become very comfortable and confident with it which means that I tend to hit it better.
At the other end of the bag, I like a 56/46 wedge set up. For me, 56 degrees gives me enough loft to get the ball up when I need to, especially if I open up the face. However, it is also low enough lofted to let me hit full shots. Personally, I tend to add a bit of loft at impact and hitting a full shot with a 58 or 60 will just see the ball heading up into space and falling short.
The 46 is the Swiss army knife of the set and probably lets me play most shots inside of about 120m. I feel happier currently hitting a half-shot with a specialist wedge rather than a set pitching wedge. This is again personal to me because when I have an iron in my hands, I just feel more at ease hitting a full shot rather than taking a bit off.
So that gives me 5 "definites" that I use almost all the time, unless I want to get to 5 or below. So my final choice is usually going to be irons and this is going to depend on a few things. The first thing to look at, once again, is par three lengths. If you hit your 6 iron 140 but have to carry it 150, you might want a 5 iron.
The next thing is the lofts on your irons. If you play stronger lofted irons, for example with a seven iron at 30 degrees or less, you can perhaps get away with a 6 iron as your longest iron. If you play a shorter course, especially if you are a longer hitter, or play your hybrid at 23-25 degrees rather than my 19 degrees, you might only need a seven iron.
For me, I hit my irons quite well and relatively far despite my aging body! I am not great at taking a bit off my irons, especially with mid/long irons. However, I can do this OK with a shorter iron. I also do quite well stepping on irons to squeeze a bit more out. This makes my final choice quite easy, as I find my 6 and 8 irons in the bag more often that not.
My Favourite Minimalist Golf Club Set
So my final minimalist golf bag set up often looks something like this:
driver
19 degree hybrid
6 iron
8 iron
46 degree wedge
56 degree wedge
putter.
This is coincidentally a true half set in that it has 7 clubs.
Hopefully, this gives you a few ideas about what you can do when you want to lighten the load, either literally or mentally. There really isn't one answer and it is quite a lot of fun trying out different combinations.