Playing golf can be the ideal way to reduce stress and relax. You are outside, in the fresh air and most of the time, in beautiful surroundings. It is also the perfect way to spend time with friends and acquaintances or even do a little business.
Big Moss Putting Mats-Which one is Right for you?
However, it can also cause its fair share of heartache as you land in the bunker again or see that snap hook off the tee heading straight towards the out of bounds marker..
The putting green is the area on the golf course where the majority of the pressure to succeed is applied. This part of your game either makes or breaks your score. In fact, I am willing to bet that this is the place where most people learn to swear. Nothing is more frustrating than hitting a couple of perfect shots then three-putting!
Practicing your short game is not always the top priority when you go to the driving range. Relatively, it seems a lot simpler because tapping the ball in a hole 1 yard away is peanuts compared to making it 300 yards away. However, if you have played for any time at all, you know that this simply isn't the case.
[toc]
Whilst hitting the fairway certainly makes life easier, the old maxim of driving for show and putting for dough certainly holds true.
Let us think about this for a minute.
Since there are 18 holes at an average of a par 4 for each hole then that leaves you with 72 shots to break even. If it takes you about 2 shots to get on or next to the green every time then a whopping 50% of your strokes rely on your putting or chipping ability.
Why Buying a Home Putting Green is a Great Idea
Just looking at the numbers shows how important  focusing on your putting and chipping ability is, but now comes the practical issues.
Time.
This is one area that people struggle with the most because, well, we can only do one thing at a time. So, not only do you have to practice all your other shots but you also have to go to work, take the kids to school, run by the grocery store, pick up the dry cleaning, cook dinner, take the kids to practice, clean the rain gutters… etc.
We don't always have the time to go to the range or putting green to practice. If you do have time, sometimes you just want to actually play the game rather than practising putting or your iron play. Obviously, you can find ways to make this more entertaining as I mentioned here, but time on the course is still going to be a limiting factor
This makes a home putting mat perfect for the 15 to 20 minutes you can find between chores. Not only does it save you time but it can also save you money on the gas it takes to get to the course and the fees that some facilities charge.
A feature that comes in handy is that fact that you are protected from the weather. So, if it is raining, snowing, or blistering hot then you can still use your putting green uninterrupted.
Where Could You Install It?
The best places to put your indoor putting mat is on a flat surface that is hard. If you lay it on something like a soft carpet then you will affect the speed of your ball. This is necessarily a bad thing, but ideally you want to get pace pretty close to where you normally play. Unless your regular course is Augusta and is hitting 12 on the stimpmeter, you should be fine with the putting mat on a relatively hard surface like concrete, wooden flooring or tiles.
Places that should come to mind are garages, back patio, basement, or any room in the house as long as the surface does not alter the realism that you are trying to create.
Of course, one thing to keep in mind is space. What size mat you buy is going to depend on just how much space you have available.
When you are finished with it or you need the space for something else then you can roll it up and store it.
What Are the Characteristics of the Best Putting Mats?
There are certain traits to look for when picking out the best indoor putting green that will satisfy your needs. They are all geared towards one goal which is realism.
Practicing on anything other than what you would experience at the golf course would be pointless if your goal is to perfect your game.
True Roll
A true roll is a term that refers to a surface that will allow your ball to roll just like on an actual green. This might seem obvious, but lots of putting mats, especially lower end models, are actually fairly frustrating to use. The ball will bobble over every imperfection on the floor and it can actually make your putting worse and make you lose confidence in your stroke!
Slow motion cameras have shown that when you putt the ball actually flies into the air a little before it starts rolling. So another thing to be aware of is the bounce of the ball on the turf. This is also important when practicing chip shots.
Speed
Another aspect to a realistic indoor putting green is the speed at which the ball rolls over the material. You could use a stimpmeter to measure the speed but since they have different speeds at different greens it would be best to take my word that Big Moss indoor putting greens have a very realistic material.
Plus, the average golfer would be able to tell if it doesn't fit the bill. The differences in speed are rather minor and a key point to being a good golfer is being able to adapt.
Durability
With any product, you would want a putting mat that would last a long time. One that will not crimp up along the edges or crease in the middle.
It should not create any trenches that the ball would naturally fall into. This would make your ball go in the same direction every time and what good is that?
Big Moss Putting Green Reviews
Big Moss Golf Augusta Putting Green
The Augusta from the company Big Moss fits all the criteria above. Just like all Big Moss products it is handcrafted in the United States with the finest materials used in its own proprietary process.
The measurement of 4 x 12 feet is a great size for practicing your long putts without bumping up against any of your walls.
Right out of the packaging it is ready to go in minutes without any creases. All you do is unroll the mat and lay it down green side up. The first thing you will notice is that it will lie flat on the ground.
The turf is wrinkle-free and is designed to look and feel real as if it was freshly-cut and bent. There is a down grain built right in straight both holes.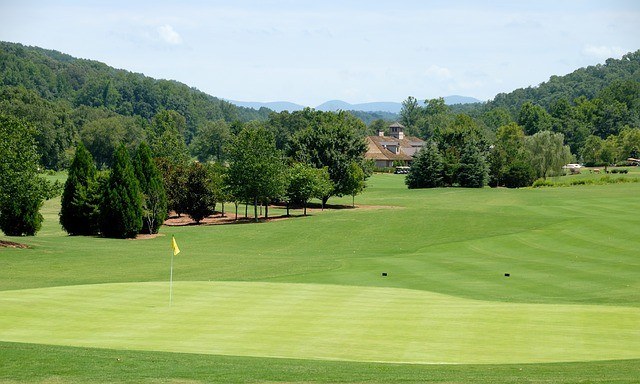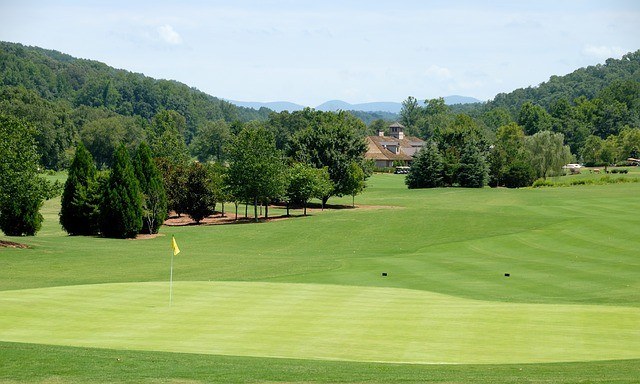 It comes with a break snake which is a piece of foam that you can place under the mat so that you can create an endless number of contours. This will increase your skill level and not leave you with the same old boring shot over and over again. Given that most putts aren't going to be just flat, it makes sense to practice these breakers.
This is also good if you have a particular weakness. I struggle with putts that break right to left, tending to under-read the slope and miss the hole on the low side. The break snake means I can set this right to left putt up and get used to hitting it confidently.
Included is a 12 x 12 inch chipping mat so you can improve 50% of your entire golf game under the roof of your own house.
Alternatives to the Augusta
Big Moss Golf COMPETITOR 3′ X 9′
This competitor series mat from Big Moss is about 3 feet shorter than the Augusta so if your space is limited then this one is right for you.
It has holes that are 2 inches, 3 inches, and regulation size with additional plugs to make the holes smaller. This is a feature the Augusta does not have that will improve your game significantly. If you are regularly hitting the center of a smaller cup, those real holes out on the course are going to look huge! This gives a lot of confidence, and as we all know, the hardest part of the game is played between the ears.
Included is a break snake, backstop with Velcro attachment, chipping mat, and 2 limited flight chipping balls (so as not to break any windows.)
Big Moss Golf THE COUNTRY CLUB 6′ X 12′
If you have a little bit more room to play with at your house then you should consider the Country Club option.
It is more of a square shape that has 4 holes to choose from. The configuration allows for natural breaks against the down grain. Combine this with the break snakes and you will have countless possible ways to practice. Basically, any putt or chip and roll from the edge of the green that you might face on the course, you can recreate with the Big Moss The Country CLub
It also comes with a backstop with Velcro attachment, 2 limited flight chipping balls and chipping mat.
For the Big Spender
Big Moss Golf Long Putt 60 6′ X 60′
Hopefully, you will never have to face a 60-foot putt but when that moment arrives you will impress everyone who sees you make the long shot.
This model is a little pricier than the others but you can make that money back after side-betting your friends that you can make this putt on the golf course.
It is made from premium grade materials that will never develop grooves and can withstand heavy foot traffic.
The putting green is broken up into 2 pieces. It comes with a chipping mat and 3 break snakes.
Great Putting Drills
Once you decide on a mat then it is time to practice. However, there is more to practice than just hitting the ball towards the hole.
Here are a few drills that will help you with the mechanics so that you won't have to think about them when you have to make that one putt. We all know about that one putt you need to sink to win.
You should try and do one or all of these about 20 times.
Coin Drill
First place a coin about 1 foot in front of your ball. Hit the ball and try to make it go over the coin. This will allow you to visually see the straightness of your putt at the beginning of your stroke.
A little deviation at the start could have major ramifications in the long putt.
Against the Wall
When putting, it is important to keep your lower body (below the waist) still. So, you can place your bum up against a wall and see if you are having this problem. If so, then practice till you are stable.
End over End
You can buy a ball with a line around the circumference of the ball and hit it to visually see how your stroke affects the ball's rotation.
You can also just use a marker and paint a line on a regular ball.
40/60
The conventional wisdom says that the proportion of your backswing to your follow through should be 40% to 60%.
To practice this, take a 2 foot 2×4 and draw a line straight down the middle. Take an 8-inch piece of white tape and place it on back-swing half starting from the middle. Measure 4 inches into the white tape and draw a line.
Then place a 6-inch piece of black tape from the center on the follow through half of the 2×4.
Place your ball next to the center of the piece of wood and line up your putter with the middle. Start your stroke going back to the 4-inch line and follow through to the end of the 6-inch piece of black tape.
You can then repeat this with the backswing at 8 inches to the end of the 2×4 which would be 12 inches.
This is a proven technique to help you with the proper acceleration of your ball.
Poker Chip
For this drill, all you need is a putter and a poker chip.
Place the chip on the green and try to put it. Due to the thinness of the chip, it will be low to the ground. It will help you practice the arc of your swing. If you practice this then you will never hit too high on your ball.
Conclusion
Big Moss is a company that started out with a guy that made his first prototype out of carpet he pulled out of a church for his job.
Through his ingenuity and entrepreneurial spirit, he set out to find the best materials to come up with a putting green that won't crinkle and allows the ball to roll true.
Any one of their models can help you build your confidence up so that the next time you tee up you will know the final putt will never land you a bogey.
So, the next time you go to the golf course to relax and have a good time, you will. Although, you buddies might not have as much fun.
That is when you tell them about how the Big Moss Augusta is one the best indoor putting green you can buy.