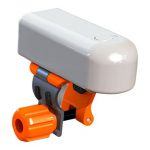 Perfecting one's golf swing is one of the most difficult skills in all of sports. Golfers spend hours upon hours practicing their swings and trying to develop the habits of pros. But without a pro standing beside you and analyzing your every swing, how can you ever be sure that you are actually improving your swing?

Few golfers can afford to pay for a golf pro for training on a regular basis. That's where the SkyCaddie SkyPro Swing Analyzer comes in. With this amazing little device, it's like having your very own golf pro analyzing your every swing and helping you improve your game.


With our SkyCaddie SkyPro Swing Analyzer review, we can help you decide if this is the right device to help you improve your game.